"This performance was billed as a 'tribute to Josephine Baker', both her stage set and outfit were in homage to the legendary early 20th Century singer/actress. " (That explains the bananas skirt)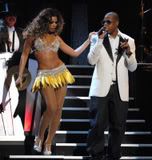 This is the first link I came across, I'm sure it'll be on youtube and upped to other formats later. I'll update the post with those links when/if I run across them.
There was a little segment where they had Jay talking about Rocawear, fashion and guess what? I couldn't tape it! Damn!
Just to make y'all feel better (cause I know it's real hard for you right now) lmao: It wasn't too much, it was real short, you didn't miss out on anything special